Backing for Fabrics
Strengthen your textiles for upholstery use with FabBack®
---
We offer four types of knit backing:
| FabBack Knit Backing: | FabBack 2 Knit Backing | SoftBack Light and Soft Knit Backing | ScrimBack Light & Soft Woven Fabric |
| --- | --- | --- | --- |
| Regular, plain, solids and flat weave fabrics | Embroidered, textured, plaids & stripped fabrics | Velvets, suede & delicate fabrics | Loosely woven fabrics |
What is Knit Backing?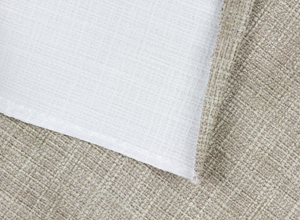 Knit backing is permanently bonded to the back of fabrics, adding body, resiliency, and durability while eliminating seam slippage. This fabric backing makes lightweight fabrics such as silks, cottons, and chenilles more suitable for upholstery use. Knit backing provides a luxurious feel to fabrics while increasing wear resistance for longer life.
Our company has developed its own proprietary backing process that minimizes puckering, bonding separation, and grain distortion which are common with fabrics backed using conventional methods. In addition, variations such as creases, wrinkles, uneven salvages, shadings, and distortions are minimized by our knit backing techniques thereby enhancing the fabric's visual appeal.
We've successfully applied knit backing on a wide variety of fabrics including:
Silk Fabrics
Linen
Polyester
Cotton
Solids Plaids & Stripes
Embroidered & Pleated
Velvets
Vinyls
Embroidered
Chenilles
Animal Skins (Leather, snakeskin, etc)
Faux Leather (Naugahyde)
Plastic
Grasscloth
Up to 120" wide fabrics
Loose weave fabrics
Common Uses for Knit Backing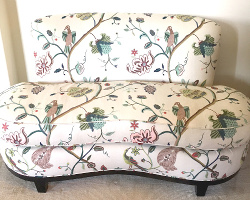 We have worked with a variety of companies and individuals who need to reinforce fabrics and textiles. These include fabric wholesalers and distributors, furniture manufacturers, interior designers and decorators, drapery workrooms, upholsterers and more.
Our team can tackle a variety of projects, from hundreds of yards to special custom projects. In fact, we once knit backed snakeskin for a customer who was making high end wallets. Snakeskin is only 9 inches wide and there were 24 pieces which had to be sewn together and then backed to look like one continuous piece. We devised a custom process to keep the integrity and appearance of the skin. Additionally, we frequently knit back leather for upholstery. Leather's unique and characteristic texture is maintained by our special process.
Acrylic vs Knit Backing
Acrylic backing is a liquid coating that is applied to the back of the fabric and solidifies. This is not suitable for thin fabrics and delicate silks because the coating can seep through and stain the face of the fabric. Unlike acrylic, knit backing is a woven fabric which is applied to the back of the fabric using a heat-activated dry adhesive that does not penetrate through to the fabric.
Knit backed fabrics are also easier to cut and sew as compared to acrylic backed fabrics. This is because the acrylic coating has the tendency to dull cutting edges and sewing needles due to it's gummy nature. Therefore, more frequent maintenance of sewing equipment is often required when working with acrylic as compared to knit backing.
Recommended Treatments for Knit Backed Fabric
Fabrics knit backed for upholstery, such as chairs, sofas, headboards, and upholstered walls are often stain protected. We have a complete lineup of stain protection products for all types of natural and man-made fabrics.
More and more designers are using knit-backing in place of interlining draperies. In this case we recommend our ultra-violet (UV) protection with the stain protection.