Bonding Fabrics & Materials
Bonding and Fusing Services
---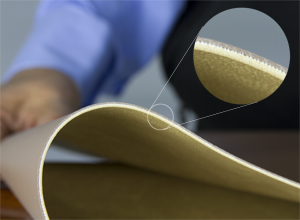 Fusing fabrics and materials is the process of creating a permanent bond between two or more substrates. These substrates can be the same or different materials. The resulting product combines the best features of each to create a reinforced product with enhanced durability, puncture resistance, and stiffness.
Our engineers routinely fuse products such as naugahyde vinyl, PVC, leather, ultra suede, alcantara, and many natural and synthetic fabrics. We serve a variety of industries including medicine, recreation, hospitality, footwear, apparel, and contract furnishings.
Give us a call to discuss your custom bonding and lamination requirements. We would be happy to provide samples for your evaluation.