Flame Protection for Fabrics, Window Treatments, Decorative Ropes and other Items
Treatment and Finishes to Meet Fire Code Requirements
Our flame retardant finishes reduce flammability and delay combustion. We treat a wide variety of items including fabrics, window treatments and decorative design elements like rope. Materials used in public places such as schools, theaters, convention halls and hotels must meet certain flammability standards, required by local governmental regulations. Although all items will burn, those that are treated with our fire retardant are significantly more flame resistant. Natural fiber fabrics, such as cotton, linen, silk, and wool (and synthetic fibers like rayon and polyester) can be treated to meet all flammability standards.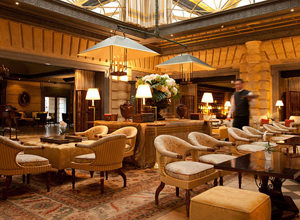 The most common test for flame resistance is known as the NFPA 701 Test 1 for drapery, NFPA 260 for upholstery and  ASTM E-84 Adhered for wall coverings. Fire codes vary by city, state and county. Our treatments are custom formulated by engineers based on the chemical composition of the item being treated, the end use, and any applicable fire code requirements.
FlameGard ® – flame resistant finish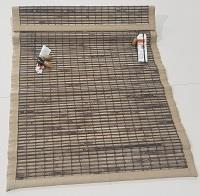 Our water-based FlameGard ® finish is applied directly to fabrics, window treatments and decorative items used in commercial applications. FlameGard ® is a non-toxic treatment that complies with most fire codes.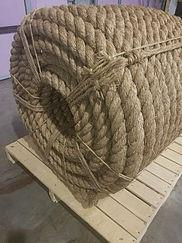 While most of our FlameGard applications have been on fabric to be used for upholstery, we routinely treat a wide variety of items. Decorative ropes have become very popular design elements for interior design. Wooden shades have also become popular in commercial applications. Both have to be treated with fire retardant finishes to meet NFPA 701.
FlameBlock ® - FlameGard ® with Fire Barrier Liner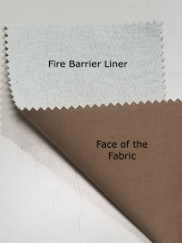 FlameBlock ® is a non-flammable barrier film laminated to the back of any fabric to block fire penetration.  First, the fabric is treated with our FlameGard ®  treatment, and then it is lined with our FlameBlock ® barrier liner. The barrier liner is soft, stretchable and easy to cut and sew without irritation to upholsters' hands. Our barrier liner is engineered to provide the best solution to the Cal-133 test.
Certificate of application.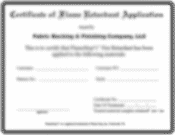 We provide a certificate of treatment on all fabrics that are finished with FlameGard ® . For most of our clients, this meets their needs. For projects that require the finished fabric to meet specific fire codes, we can also provide a certificate of flame retardancy. This certifies that your fabric was tested after our application by an independent laboratory and is certified to meet the applicable codes.
If you require a certificate of flame retardancy, please notify us before placing your order.